Syntax Highlighter for Windows Live Writer v0.2 released
Syntax Highlighter v0.2 has been released along with source code at Codeplex. This is an update to my original Windows Live Writer plugin which can be found at Windows Live Writer Syntax Highlighter.
As you might have noticed some of the features such as auto link detection, collapse, gutter (line numbering), toolbar, wrap lines and starting line number have been added.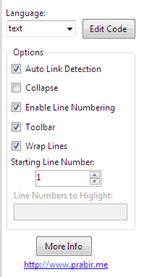 To download the files please visit http://codehighlighter.codeplex.com
or download from windows live gallery.
More features coming soon. If you want to help develop this plug-in please leave a comment below or contact me at http://blog.prabir.me/contact.